Jin-me Yoon – Passages Through Phantasmagoria

Video works: Seoul, Korea and Beppu, Japan
[:fr]Centre culturel canadien (Invalides)[:en]Canadian Cultural Centre (Invalides)[:]
December 03rd, 2008 - March 06th, 2009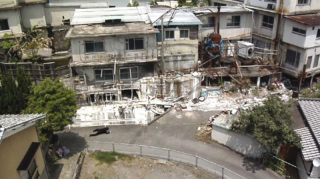 Opening on December 2 at 12:30 pm
As part of the official programme of the Rencontres Internationales Paris-Berlin-Madrid 2008, the Canadian Cultural Centre presents the first solo exhibition in France of Korean-born Canadian photographer and video artist Jin-me Yoon.
In a large part of her work and in her performance videos in particular, Jin-me Yoon subjects her body to a test of endurance and to a position of absolute fragility that makes us differently see the world in which her actions are carried out. Seen from below, close to the ground, this seemingly banal world becomes worrying and in its verticality and flow, is all the more opposed to the slowness and difficulty the main character has in moving forward in these absurd yet very effective sequences of suspense.
The exhibition Passages through Phantasmagoria is centred around two major pieces of Jin-me Yoon's recent works: The Dreaming Collective Knows No History (2006) and As It Is Becoming (2008). The powerful video work The Dreaming Collective… shows the artist crawling through the streets of Seoul, Korea. By tilting the verticality of the high-rise city and bipedal human beings on a horizontal plane, Jin-me Yoon proposes an astonishing relationship to the constructed city environment and to the human body.
This exhibition is produced in collaboration with Catriona Jeffries Gallery (Vancouver) and Art-Action (Paris).
Where
[:fr]Centre culturel canadien (Invalides)[:en]Canadian Cultural Centre (Invalides)[:]
5, rue de Constantine, Paris
Get directions