Momenta – Les Rencontres d'Arles
Divers lieux – Arles
July 01st, 2019 - September 22nd, 2019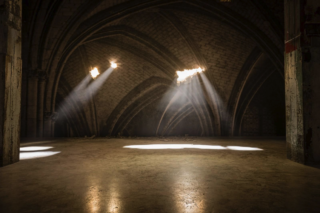 The Momenta – Biennale de l'image in Montreal has associated itself to the prestigious Rencontres de la Photographie in Arles to showcase two yet-unseen solo exhibitions by Canadian artists Yann Pocreau and Guillaume Simoneau.
Manipulating light, Yann Pocreau makes it a medium in its own right. He includes it as a living subject and explores its effects on the narrative of his images. With Cathedral, Pocreau develops an immersive installation which reproduces the presence of light just as it would manifest itself in such a place. It is composed of a monumental photograph representing the interior of a gothic Cathedral, perforated so as to allow the light to come through. This creation is based on the fantasy of the artist who wishes to photograph the almost mystical moment when a ray of light wends its way through the stained-glass windows, when its warmth and luminance spread throughout the space.
Cathedral projects a fantasized world where fragility, memory and history collide. This image representing a place of worship emerging from its planeness becomes a theater with both apocalyptic and poetic appearances, where the act itself belongs to the light.
Guillaume Simoneau creates fragmented, personal stories through photography. Fact gives way to perspective, and truth to opinion in his work, which unfolds nonlinearly. The series Murder (2016-2019), shot in Japan, touches on different poetic and symbolic relationships to birds, where the bird is at once friend, alter ego and protagonist. Photographs by the artist's mother, Jean d'Arc Fournier, are put in dialogue with those of Japanese photographer Masahisa Fukase's iconic series Karasu [Ravens], a work that plays a major role in the history of photography.
Simoneau's œuvre does not express existentialist anxiety, contrary to that of Fukase. Instead, it displays a fascination for situations in which vulnerability and power are found together. In this homage, the artist references the deceased Japanese master with both poetry and violence, where the lexicon of violence, inherited from Fukase, becomes a means of challenging that heritage.