Nuits blanches et chambres noires
[:fr]Centre culturel canadien (Invalides)[:en]Canadian Cultural Centre (Invalides)[:]
September 26th, 2012 - October 26th, 2012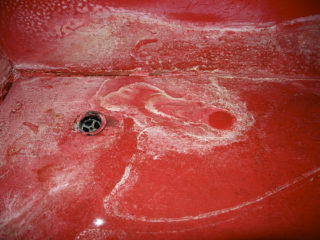 Vernissage: Tuesday, September 25, 6–8:30 p.m. – Free admission
The Canadian Cultural Centre presents two exhibitions exploring different types of revelation: "Nuits blanches" by Calgary artist Derek Besant and "Chambres noires" by Quebec photographer Michel Campeau.
Derek Besant's installation plunges the viewer into a mysterious realm in which supple "negative" images, empty motel rooms that look like crime scenes, become surfaces on which fantasies may be projected. A hybrid soundtrack, an intriguing mix of music, noise, and stories, immerses the visitor in an open-ended narrative.
Paradoxically, "Chambres noires" takes us into the now obsolete closed, secret spaces of the photo lab, where images used to be revealed in the dark. Fragments of darkrooms visited in Vietnam, Niger, Mexico, Cuba, Canada, Germany, Belgium and France, the images are both intimate and transnational.
Presented as part of the "Semaine des Cultures Étrangères". 
In partnership with Galerie Simon Blais (Montreal) and the Centre National des Arts Plastiques and with the support of the Rencontres d'Arles. 
Media partners : Exponaute / Le Journal des Arts
Where
[:fr]Centre culturel canadien (Invalides)[:en]Canadian Cultural Centre (Invalides)[:]
5, rue de Constantine, Paris
Get directions