Beauty and the Beasts / La Belle et la Bête

Kent Monkman
Centre culturel canadien
17 mai 2018 - 05 septembre 2018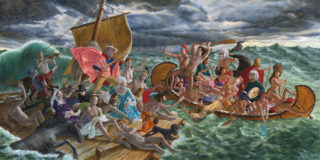 Une proposition artistique inspirée des collections du musée des Confluences à Lyon
Beauty and the Beasts / La Belle et la Bête lance la programmation de réouverture du Centre culturel canadien, désormais situé au 130 rue du Faubourg Saint-Honoré dans le 8e arrondissement de Paris.
L'exposition est le fruit d'une rencontre entre Kent Monkman, artiste de Toronto né au Manitoba, autochtone d'origine crie, voix singulière et puissante de l'art canadien, et le musée des Confluences de Lyon. L'artiste a prélevé, des collections du musée, dix œuvres et artefacts représentatifs d'objets et d'animaux désormais dépossédés des pouvoirs que leur attribuent les cultures autochtones. Il en fait ici le cœur d'une exposition de peintures d'histoire et de mythologie qui interroge les relations entre les animaux et les hommes, et qui propose une réflexion aussi inédite que profonde sur la notion d'appropriation culturelle.
Cette exposition est produite par le Centre culturel canadien à Paris et organisée en partenariat avec le musée des Confluences à Lyon. Elle a reçu le soutien de la société Power Corporation du Canada, ainsi que l'appui du musée d'art de l'Université de Toronto.
Kent Monkman est récipiendaire d'une bourse du Conseil des arts du Canada (programme « Nouveau chapitre »).
Une publication bilingue, coéditée par Skira et le Centre culturel canadien, accompagne l'exposition.
Médias associés : A Nous Paris, Beaux-Arts Magazine, Bookstorming, Connaissance des arts, e-flux, France-Inter, Le Journal des Arts, L'Oeil.
#CanadaCulture #KentMonkman