Jazzlab Orchestra
Centre Culturel Canadien
November 26th, 2019
20:00 - 21:30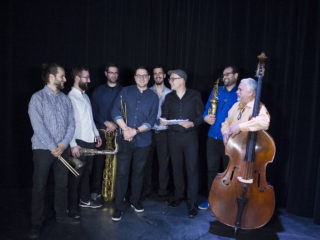 The Jazzlab Orchestra is a Canadian-based ensemble of 8 musicians celebrating its fifteenth anniversary this year. This collective offers a refined and creative musical experience exploring the essence of jazz itself.
Within the Jazzycolors Festival organized by the FICEP (Forum des Instituts Culturels Etrangers de Paris), the Jazzlab Orchestra will let you discover their new album, Quintessence.
Musicians: Samuel Blais, Mario Allard, Alex Francoeur (sax), Jacques Kuba Seguin (trp), Thomas Morelli (trb), Félix Stussi (pn), Alain Bédard (bs), Louis -Vincent Hamel (drs).
Where
Centre Culturel Canadien
130 rue du Faubourg Saint-Honoré, Paris
Get directions
Booking
Event fully booked.