The Night of museums

Edward Burtynsky - From Human to Global Scale
Centre culturel canadien
July 03rd, 2021 18:00 - 23:30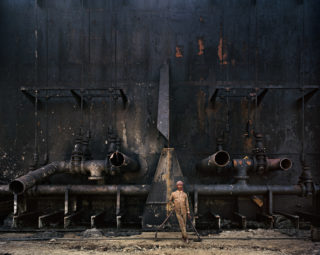 Initiated by the Ministry of Culture, the "European Museum Night" will take place on July 3rd. During one night, between sunset and midnight, the public is invited to discover, for free, in an unusual, festive and playful way, the riches of the museums of France and Europe, including Canadian Cultural Centre in Paris.

Book your guided tour here
Free visit from 6pm to 11pm (last entrance at 10:45pm)

A renowned Canadian photographer, travelling around the planet for decades and exploring the residual landscapes left behind by our modern existence, Edward Burtynsky has produced images of an uncanny beauty, evoking abundance and absence, the local and global issues around water and oil, the exploitation of resources and the resulting impact on labour forces and populations. Burtynsky recently delivered an ambitious and panoramic project of all the components of a development that is as coherent as it is politically committed, Anthropocene.
This Canadian Cultural Centre exhibition proposes a new and subjective crossing of the corpuses of this colossal body of work. Mounds and Voids focuses on the industrial and human means convened in the profitable exploitation of land, on the overall equilibrium of the mounds and voids created by our local imbalances, on the subterranean sections and reliefs that have nothing natural about them. Far away from the large urban centres and the everyday lives of the privileged, what imprints do the operations of digging and piling leave on our planet? What do we see and what do we know of those who dig, extract, pile up and work with bare hands where industrial machinery cannot? 
Starting with an immersive and contrasting face to face between an industrial mining site and an artisanal mining site, both in Africa. The exhibition offers a striking and paradoxical look behind the scenes at our world, inviting us to evaluate the local and global issues of the exploitation of resources. Mounds and Voids: From Human to Global Scale is also a reflection on the construction of the image and its own power, in the very singular form of the mastery of the representation of space and of the scale of things, as well as on the assumed exploitation of technology in the service of an exploring gaze thwarting and defying the limits of perception.  
The exhibition brings together two monumental works produced in Johannesburg and Madagascar from Edward Burtynsky's most current project, Africa; additionally we explore an ensemble of augmented reality experiences constituting a meditation on the memory of industrial relics; and a condensed selection of fourteen photographs tackling the procedures of visual elaboration of land use and recycling.
Curator: Catherine Bédard